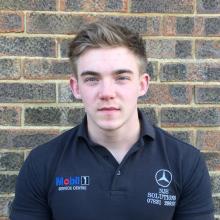 Technician
Connor joined NJS Solutions (SE) Ltd in 2014. He has now completed his (Level 3) course studying for his Motor Vehicle Maintenance and Repair qualification at North Kent College.
Since becoming part of the team Connor has proved to be an asset to the Company. He works well on his own, as well as part of a team. He is confident in undertaking large jobs from start to finish. He is very methodical and takes his time in getting the job completed to a high standard. He is personally being trained by Nigel in the use of computer diagnostics and is progressing well. He is also being trained, when time permits, in auto electrics.
In February 2018 Connor was selected by North Kent College to represent them and participate in a competition against 18 other students from a number of different colleges for Apprentice of the year whereby he took first place. He received a large trophy and although now qualified, has been entered for the Nationals which takes place in Milton Keynes in June 2018. NJS solutions are extremely proud of Connor's achievements and look forward to him progressing further.
Since joining the team Connor has also attended various workshops and has gained certification in Air Conditioning, First Aid Training and Fuel Contamination. He has also been given the responsibility of running in the workshop in the absence of the Director.